Attention A T users. To access the menus on this page please perform the following steps. 1. Please switch auto forms mode to off. 2. Hit enter to expand a main menu option (Health, Benefits, etc). 3. To enter and activate the submenu links, hit the down arrow. You will now be able to tab or arrow up or down through the submenu options to access/activate the submenu links.

Rehabilitation and Prosthetic Services
VA & DoD at the Forefront of Rehab Medicine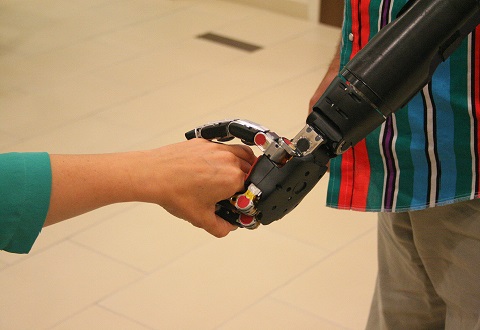 By John Crawford, VA Research Communications
Wednesday, July 23, 2014
Fred Downs is a bit of an anomaly. An infantry Veteran of Vietnam, he's more Andy Griffith than Robocop. It's easier to imagine him telling the grandkids a story than demonstrating space-age technology in front of a room full of clinicians and researchers from VA and the Department of Defense.
But that's just what he was doing in early July during a three-day symposium at the VHA National Conference Center in Arlington, Va. The event, titled "Federal Advanced Amputation Skills Training (FAAST)," was sponsored by the VHA Employee Education System, the VHA Office of Rehabilitation and Prosthetic Services, and the Department of Defense.
Downs' story, like that of so many of today's Veterans who have come back from Iraq and Afghanistan, begins with tragedy. He talks about that day in 1968 when a "bouncing Betty," a type of antipersonnel mine, blew off his left arm. But the nearly 90 physicians, scientists, and therapists in the room aren't there to hear about the war; they've come to see, literally, what Downs has up his sleeve: the DEKA arm, a state-of-the-art robotic arm. It was developed through funding from the Defense Advanced Research Projects Agency (DARPA), with VA's Office of Research and Development as the clinical research partner. As he speaks, Downs manipulates sensors with his feet. The arm whirs to life, the hand twirling in impossible contortions to show how he does everything from carrying grocery bags to flipping a burger.
"After 46 years," says Downs, who served three decades with VA and is the former national director of prosthetics, "I'm learning to use my left arm again."
Recent wars drive advances in care
The DEKA arm, which received FDA approval in May 2014, was just one of many medical wonders on display at the Federal Advanced Amputation Skills Training (FAAST) symposium. For three days in July some of the country's foremost authorities on amputations and limb injuries gathered for a glimpse into each other's worlds, and into the future of treatment for traumatic limb loss.
"It [symposiums like FAAST] helps get current providers up to speed on the newest technology and rehabilitation treatment available and they enhance relationships and collaboration abilities," says Dr. Joseph Webster, national medical director for VA's amputation system of care.
More than 1,646 service members have lost limbs in Iraq and Afghanistan. Of those, more than 300 have experienced multiple limb loss. And, while these types of injuries have been common in war for centuries, the overall severity has worsened. The main reason? Improvements in body armor and evacuation techniques. "We're seeing patients who have sustained multiple limb amputations and upper extremity amputations that previously would have died as a result of their injuries," says Webster, who gave the group an update on osseointegration research being performed at the Salt Lake City VA Medical Center and the University of Utah. Osseointegration involves attaching a prosthesis directly to a patient's bone. The result is a prosthesis that can provide better balance and won't slip, although there are some drawbacks to the process, which researchers are still working on.
"As unfortunate as war is, historically it has driven our medical and rehabilitative systems," says Dr. Lucille Beck, VA's chief consultant for rehabilitation and prosthetic services. "The medical field is responding to these injuries. This conference is a great example of VA, DoD and academic partners contributing their research and efforts to helping our injured."
Limb loss 'no longer seen as so debilitating'
Speakers at the conference presented case studies, talking about their own experiences and those of their patients. "We're here because we all have a Veteran-centric school of thought," says Dr. Leif Nelson, assistant chief for clinical care at VA's Extremity Trauma and Amputation Center of Excellence, based in Manhattan. "Each patient is an individual person with unique needs, and it's about putting everything together, from physicians and surgeons, to psychologists and occupational therapists, to make sure we're sharing our clinical knowledge and research findings to provide the best care possible."
Nelson, whose presentation focused on adaptive sports, sees the growth not just in the technology, but in what it can represent for an injured Veteran. "Ten years ago, if we were talking about prosthetics for sports, we were only talking about running," says Nelson, whose presentation included a list of dozens of VA-sponsored sports for athletes with amputations. "We're seeing changes in how the general public views someone with a limb loss. It's no longer seen as so debilitating."
Experts discussed a range of topics, ranging from how to better train prosthetics users to avoid falls and improve their gait, to surgery options for combat-related heterotopic ossification, unhealthy bone growth outside the skeleton.
Dr. W.P. Andrew Lee, chief of plastic and reconstructive surgery at the Johns Hopkins School of Medicine, was on hand to discuss the emerging field of limb transplants. Lee, whose team performed the first U.S. double hand transplant in 2009, recently performed the first ever such surgery on a U.S. service member. It was only the seventh such surgery in the U.S. The recipient, retired Army Sgt. Brendan Marrocco, lost not only his hands, but also his legs, due to an explosion in Iraq. He is the first U.S. Veteran of Iraq or Afghanistan to survive a quadruple amputation.
Double hand transplant took 16 surgeons, 13 hours
"Hand amputations can be devastating," says Lee, "not only because of the functional limitations, but because humans use their hands for social and emotional expression. That's something a prosthetic can't replace." Marrocco's surgery, which took 16 surgeons 13 hours to complete, connected the bones, blood vessels, muscles, nerves, skin and other tissues on both Marrocco's arms with a donor's hands. Now, one and a half years later, Lee says he is still surprised by Marrocco's recovery. The former soldier often sends Lee smiling videos of himself doing push-ups or pull-ups.
"I never really accepted the fact I didn't have arms," Marrocco recently told The Washington Times. "Now I have them back, and it's like I went back four years and I'm me again."
Other Johns Hopkins researchers, from the university's Applied Physics Laboratory, displayed their own robotic arm, still under development. The device, known as the Modular Prosthetic Limb (MPL), is also funded by DARPA. Like the DEKA arm, the MPL is a complete arm system, but it has seven additional motors. This provides greater potential for hand dexterity but increases the complexity for control. Both the DEKA and MPL arm have been used in DARPA and VA research focused on achieving "near-natural" control by recording neural signals from a user's brain: The user thinks about moving his or her own fingers or arm, and the prosthesis mimics the desired motion.
"It's an exciting concept," says Lee.
'A lot of tools and a lot of options'
During the three-day event, participants stressed the importance of sharing knowledge and integrating various disciplines to provide optimal care.
"As these service members transition into the VA system, we need to make sure our staff has the necessary skills to deliver clinical care to meet their unique needs," says Nelson. "Now we can take this information back to our local facilities and share it with our colleagues, and more importantly use these skills and information to treat and educate our Veterans living with limb loss."
Or, as Dr. Jaimie Shores from Johns Hopkins put it, you don't want one tool, or even one tool box when dealing with these types of injuries. You want a lot of tools and a lot of options.
"Its true interdisciplinary care," says Beck. "We do this with physical medicine and rehabilitation physicians, occupational and physical therapists, prosthetists and more—all with a patient at the center. That's the key to success. We have entwined disciplines for direct patient care and are working together across DoD, VA and in the private sector, all with the Veteran at the center. We wouldn't be successful if we didn't do that."
Taken together, the research presented at the conference represents the future, not just for VA and DoD scientists and clinicians, but more importantly for Veterans like Downs and Marrocco, who've sacrificed so much and deserve to toss a ball, run a race, or even hold hands with a grandkid one day.
return to top