Attention A T users. To access the menus on this page please perform the following steps. 1. Please switch auto forms mode to off. 2. Hit enter to expand a main menu option (Health, Benefits, etc). 3. To enter and activate the submenu links, hit the down arrow. You will now be able to tab or arrow up or down through the submenu options to access/activate the submenu links.

Rehabilitation and Prosthetic Services
Watering Down Their Worries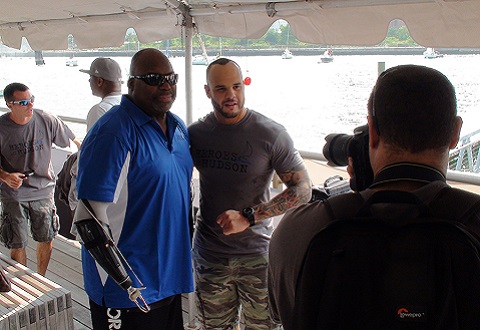 By Tom Cramer, Feature Writer, VHA Office of Communications
Thursday, August 21, 2014
When you're out on a sailboat, with the wind in your hair, it's hard to feel anything but exhilarated.
That's the theory behind an annual event called Heroes on the Hudson, in which disabled Veterans get to spend the day sailing on the Hudson River - or, if they prefer, paddling around in a kayak.
This year's event took place August 1 on Pier 66, located on Manhattan's West Side.
On the Water
"It's a cool way to promote physical health and wellness, as well as mental health and wellness," said Dr. Leif Nelson, founder of Heroes on the Hudson and assistant chief of clinical care at VA's Extremity Trauma Center in New York. "We have Veterans out there on the water who have given limbs, lost their vision, or have spinal cord injuries. We have Veterans with post-traumatic stress and other mental health issues. We're giving them a physical activity that they can master, in a relaxed and supportive environment."
And there's plenty of support.
"We have a team of rehab professionals there on site to help get the Veterans positioned in the boats," Nelson explained. "We have a team of expert sailing and kayaking instructors there to teach them."
Nelson said a day on the water can be downright therapeutic, and is just one more way the VA is trying to think 'out of the box' when it comes to helping Veterans overcome physical or emotional challenges.
"We want to be cutting edge here at VA" he said, "and we need to be creative. So we're bringing rehab out of the hospital and into the community."
A Hell-of-a-Town
Heroes on the Hudson, which started out modestly four years ago, appears to be transitioning into a yearly extravaganza with a cast of thousands.
"It's not just a VA event anymore," Nelson said. "It's a New York City event. Volunteers come from all over to help us out. It's a real community experience."
Enthusiastic volunteers from the NYPD always show up. Folks from the Fire Department of New York are also out in force on this special day, as well as volunteers from the Wounded Warriors Project and other community organizations.
Jason Maikos, a biomedical engineer and director of VA's Gait and Motion Analysis Laboratory in New York, was in charge of the sailing dock this year.
"I helped everyone get safely on and off the sailboats," he explained. "Our goal is to help these Veterans be as independent as they can, because eventually we want them to engage in these activities on their own, or with their families, if this turns out to be something they connect with. We want them to continue on with it. We want them to stay active."
In Control
Neil Carbone, lead prosthetist for the VA New York Harbor Healthcare System, spent the big day assisting dozens of Veterans getting into and out of boats.
"It's an opportunity to get them active and expose them to a sport they might not have thought they were able to do with their disability," he explained.
"Kayaking is a solo sport, where you're in control of everything," he added. "That might appeal to some of these Veterans. They can feel totally in control. It's a real confidence builder."
Your Own Pace
"I was on a kayak, which was nice," said 41-year-old Donna Zephrine, an Army Veteran who did two tours in Iraq. "I was also on a sailboat, and a motorboat, but the kayak was my favorite. It was therapeutic for me. It's good upper body exercise, but it also allows you to go at your own pace. If you get tired, you can just stop paddling and rest."
Zephrine said she suffers from mild PTSD, along with some hearing loss (from rocket explosions) and a back injury.
"They had some Veterans there who were visually impaired, or were amputees or had other really bad injuries," she said, "and they were out on the water having fun. That inspired me. All those Veterans out there inspired me. When I see them do that, it helps me stay positive.
"You always have to think positive," she said.
Turbulence
In charge of the kayak dock this year was Jonathan Glasberg, a physical therapist and prosthetics clinical coordinator for VA's New York Harbor Healthcare System. "The thing that really impresses me," he said, "is their willingness to get out there on a river that's not all that calm. It's not a placid environment. The Hudson can be turbulent. And it can get especially dicey when one of those big tankers goes by and creates some big waves...
"But these Veterans don't care….each one of them stayed out there until they were dragged back in. They have safety kayakers with them, of course, but none of them wanted to come back early."
Glasberg said he was particularly impressed by one Veteran's determination to have a good time on the river.
"He's missing an arm," the therapist explained. "Paddling a kayak with one arm is a challenge. He's done this three years in a row, but it's always been very difficult for him. So this year we outfitted his kayak with a special pivot that the paddle is clamped to. The pivot is secured right in the center of the kayak, so he was able to use it as a fulcrum. It made a very nice difference for him."
No Sea Legs
"The only thing that threw me off a little was walking on the dock," said Luther Richardson, an Army Veteran who served in Vietnam. "I got down on the dock, and it was moving! It was floating, only I didn't know it was floating, so I thought my head was spinning. But after I got onto the sailboat, I was good.
"I guess I don't have sea legs," he mused. "I was in the Army, not the Navy."
Richardson, who is visually impaired, said he had only one suggestion for his sailboat crew:
"I told them not to run into anything," he said. "I also told them I didn't want to steer."
But Richardson didn't spend the day just being a passenger.
"They let me help them sail the boat," he said proudly. "They showed me how to rig the lines, so I did that.
"I got a massage, too!" he added "They had people there giving massages."
Massages aside, the thing that seemed to impress Richardson most was the outpouring of affection from hundreds of New Yorkers who were there to cheer him on.
"All the people were nice," he said. "They were all good to me. I've never been to a Veterans Day parade, but I felt like I was at a parade. People were applauding, and thanking us for our service. It makes you feel appreciated."
return to top