Attention A T users. To access the menus on this page please perform the following steps. 1. Please switch auto forms mode to off. 2. Hit enter to expand a main menu option (Health, Benefits, etc). 3. To enter and activate the submenu links, hit the down arrow. You will now be able to tab or arrow up or down through the submenu options to access/activate the submenu links.

Rehabilitation and Prosthetic Services
Helping transgender Veterans find their voice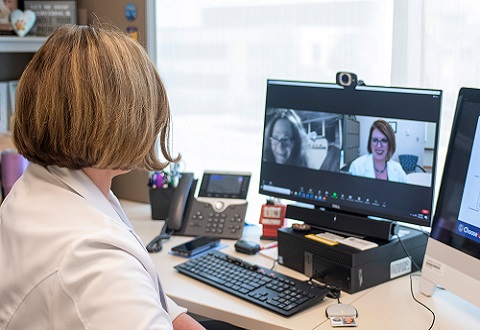 By Kimberly Eichhorn, Speech-Language Pathologist, VA Pittsburgh Health Care System, Pittsburgh, PA
Tuesday, June 28, 2022
Communication is fluid: the situation, information, and people we talk to shape how we deliver a message. For Veterans in gender transition, finding their voice can be enhanced with the help of specially trained speech-language pathologists (SLPs).
The
Gender Affirming Program for Speech (GAPS)
, is a collaborative project between the
VA's LGBTQ+ Health Program
, the
Audiology & Speech Program Office
, and the ORH Veterans
Rural Health Resource Center
in Portland, Oregon to provide voice and communication training for transgender and gender diverse Veterans.
Ten VA speech-language pathologists provide access to care for transgender Veterans residing in rural communities utilizing telehealth technology. Veterans can be referred to the GAPS program by any of their VA treatment providers.
Since February of 2021, more than 200 transgender Veterans have been referred for gender-affirming voice and communication treatment. The GAPS program begins with a review of strategies to maintain a healthy voice and an understanding of how we vary pitch, resonance, and intonation when speaking.
The program includes an understanding of non-verbal communication patterns. For example, a feminine speaker may be more animated and provide more details than their masculine counterparts. Veterans enrolled in the program typically attend 6–8 individual telehealth appointments and are scheduled for follow-up visits once a quarter to offer additional training as needed.
Veteran Q&A spotlight
Hear from two Veterans – Kaydie, Air Force Veteran from central Pennsylvania and GAPS's first enrollee. Maddie, Air Force Veteran from rural Vermont, on how VA's GAPS program helped them find their voice and build confidence.
How did you learn about GAPS?Kaydie:
When I first went to VA, I was assigned a social worker who investigated all the services the VA had to offer me. She was listing off resources and asked if I wanted help with voice and with physical therapy for gait and…and I was checking them off. Yes! Yes! Yes!
Maddie:
Because of my remote location, I am used to much of my VA care being outsourced. Given the lack of gender-affirming voice treatment in the area, I reached out to my VA social worker and asked if I could have a similar process (outsource) for this care and see someone in the community. That's when I learned about GAPS.
Tell us about your experience in the GAPS program. What did you learn about your voice/communication?Kaydie:
I think it's been absolutely essential. Not only to my confidence but my ability to speak in the way that I want to. I'm obviously not completely there yet, but to say "helpful" would be an understatement.
Before this program, I thought the only difference between male and female voices was pitch, but obviously, I've learned that there's so much more to it. And that is what changed everything for me.
Maddie:
Well, I'm really grateful I was able to get this training virtually because there wasn't anything nearby me because it can be really difficult to try to teach this to yourself with all the information online and not knowing what is accurate. For me, I found that where my voice feels most comfortable and where it feels like it matches who I feel I am on the inside.
One of the big things I learned is that I don't have this one voice, regardless of whether it is understood to be masculine or feminine. I have a different voice for different occasions, such as an informal setting with friends, or a more formal interview like this, or with my partner or my kid. To be able to be ok with that flexibility took a big load off my shoulders.
Because I left like I had that prior, a different voice for different situations. I was trying to squish it all down into one voice that was going to do everything for me.Through this process, I realized it didn't work like that.
Was there anything really hard or difficult about the process of learning to change your voice?Kaydie:
I think the hardest part is learning to accept when your voice drops out when you don't want it to and not letting that get me down. Just trying to say, "That happens," but I gotta keep trying – keep going. It needs to become habit and when that happens it becomes easier.
Maddie:
For me, the hardest part is actually using my voice, especially in front of people who knew me for years with a more masculine voice.
Could you share a bit about your experience with telehealth as an option to receive services?Kaydie:
For me, nothing beats an in-person appointment. I would prefer it but having the telehealth option is wonderful. Without it, I would have to drive two and a half hours, whereas this allows us to do what we do. Not just for this (GAPS), but I can see this becoming a standard for healthcare in general, for appointments that don't need to be done in the office.
For people to be able to take a break at work or from home, to just get on the computer and be able to communicate, not all appointments need to be in person.
Maddie:
I am a very anxious person, so the ability to be separated by a computer screen, at least especially when we first met, was really helpful. I am much more comfortable now but this is a very humbling process and to be able to do it from afar from the comfort of my own room was really nice for me.
The only downside, living in a rural area, internet quality is horrendous and it can be a little unnerving to think about missing an appointment. There were a couple of times that I could not keep up with the slides being presented because of the lag with the internet, there's that kind of accessibility issue but that's for telehealth in general. That's the only downside.
Is there one "take-away" about your voice and communication that you have from this program?Kaydie:
I would say confidence. Before this, I would be so scared to even talk to anybody. I would just keep my mouth shut. Even when people would speak to me, I would barely speak under my breath. Now, I have more confidence in actually talking with people.
Maddie:
For me, it's a big commitment. I'm a musician. It's like learning a new instrument. I need to put the time into practice and learn the new instrument. It takes time and consistency, and confidence, like Kaydie said. That's a tough one for me. I want it and I want it now. It can get discouraging because I can be my own worst critic but getting feedback from someone who is very knowledgeable is extremely helpful.
I'm at a place where I'm pretty comfortable (with my voice) most of the time. And when I'm out in public is a good thing!
What advice might you give to other Veterans in transition who are considering beginning voice and communication training?Kaydie:
Do it! It's step one in the learning process. You have to start. Take advantage of the program being offered.
Maddie:
It's a vulnerable process and it can be scary. I can relate (to Kaydie) almost being a mute in public, trying to find some level of confidence to help you push through that discomfort that you have. If there are other people – friends or anybody that you have that you can practice in front of.
It can be good to have a practice buddy, someone who can give you constructive feedback without kinda tearing you down is really important in the process.
Learn more about the VA's speech-language pathology services and resources for LGBTQ+ Veterans:
return to top