Attention A T users. To access the menus on this page please perform the following steps. 1. Please switch auto forms mode to off. 2. Hit enter to expand a main menu option (Health, Benefits, etc). 3. To enter and activate the submenu links, hit the down arrow. You will now be able to tab or arrow up or down through the submenu options to access/activate the submenu links.

Rehabilitation and Prosthetic Services
Amputees Display Their Athleticism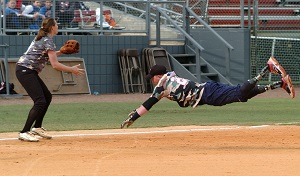 Veteran Josh Wege, a double amputee member of the Wounded Warrior Amputee Softball Team, displayed his athletic skills by using the state of the art prosthetic limbs provided by VA that enabled him to play in the 2013 Taco Bell All Star Legends & Celebrity Softball Game. Wege was named most valuable player in the game, which was nationally televised as part of Major League Baseball's All Star Game celebrations in July.
Wege and other members of the Wounded Warrior softball team also receive care through the VA healthcare system. Through advances in technology and care as part of the Veterans Health Amputation System of Care, many amputees are now able to actively take part in other sports as well, such as skiing and surfing.

The Amputation System Of Care
Vision: To be a world leader in providing life-long amputation care.
The Veterans Health Administration Amputation System of Care (ASoC) is an integrated, national health care delivery system that provides patient-centered, lifelong, holistic care and care coordination for the Veteran and Servicemember with an amputation. The ASoC provides care for over 40,000 individuals with limb loss, including those with amputations secondary to trauma-related injuries from military conflicts. Through the provision of quality rehabilitation and prosthetic care, the Amputation System of Care minimizes disability and enables the highest level of social, vocational, and recreational re-integration.
ASoC Program Highlights
The Amputation System of Care is founded on a tiered system of care across all Department of Veterans Affairs (VA) facilities with 7 Regional Amputation Centers, 15 Polytrauma Amputation Network Sites and over 100 fully integrated amputation rehabilitation clinic teams.
Clinical Practice Guidelines, jointly developed by the VA and Department of Defense (DoD), ensure evidence-based care. The integrated telehealth network enhances availability of amputation rehabilitation and prosthetics specialty care that includes state-of-the-art rehabilitation services, equipment, and prosthetic technology. The ASoC closely aligns with the VA Polytrauma System of Care and Assistive Technology Centers of Excellence. Other collaborations include the Military Amputation Care Centers for Servicemembers with amputations and integration with VA amputation prevention programs. There is a strong partnership with the Amputation Coalition and development of comprehensive peer visitor programs.
Amputation System Of Care Components
Regional Amputation Centers provide the highest level of specialized expertise in clinical care and prosthetic technology, as well as rehabilitation for the most complicated patients. Polytrauma Amputation Network Sites provide a full range of clinical and ancillary services to Veterans within their local Veterans Integrated Service Network catchment area. Amputation Clinic Teams are located at sites with more limited inpatient and prosthetic capabilities. These sites provide regular follow-up care and address ongoing needs. Amputation Points of Contact are individuals at all other facilities specifically identified as the point of contact for Veteran consultation, assessment, and referral to a facility capable of providing the required level of services.
Population Served
Those served include Veterans and Servicemembers with extremity amputations from any cause. The ASoC also serves individuals who have a high likelihood of requiring an extremity amputation due to disease or injury. Those individuals who have also undergone extremity trauma with limb salvage procedures and subsequent complex orthotic and rehabilitation needs also qualify for care in the ASoC.
Access To Care
Veterans with traumatic amputations represent a population with wide-ranging medical needs. These medical needs can include issues directly related to the amputation itself, issues related to traumatic injury of other body parts, as well as more long-term secondary complications.
Some of these issues are more prevalent and significant in the early recovery period following the traumatic event whereas others develop later and have the potential for progressive worsening over time. Individuals with trauma-related amputations typically sustain their injuries at a relatively young age and have a long life expectancy, emphasizing the need for longitudinal care considerations.
ASoC Organizational Structure
The ASoC is organized under Patient Care Services, Office of Rehabilitation and Prosthetic Services.
The wide-ranging and longitudinal medical care considerations were one of the driving forces behind implementation of VHA's Amputation System of Care (ASoC). VHA developed the ASoC in partnership with the VHA Polytrauma System of Care to assure that Veterans with both traumatic amputation and polytrauma can be provided comprehensive and coordinated services.
ASoC Rehabilitation Services Goals
The primary goals of the rehabilitation system of care for Veterans and Servicemembers with amputation are to:
Enhance the environment of care and ensure consistency in the delivery of rehabilitation services for Veterans and Servicemembers with amputations.
Provide specialized expertise in amputation care incorporating the latest practices in medical rehabilitation, therapy, and prosthetic technology.
Establish a well-defined and coordinated care program to meet the needs of all Veterans and Servicemembers requiring rehabilitation during amputation.
Ensure access to the most advanced and appropriate prosthetic components to Veterans across the system of care regardless of geographic location.
Provide care that focuses upon patients' expressed individual needs along the continuum of care and ensure the highest level of patient satisfaction.
Provide innovative systems of care including telemedicine, educational program, therapeutic interventions and prosthetic devices.
For more information, visit
return to top