Attention A T users. To access the menus on this page please perform the following steps. 1. Please switch auto forms mode to off. 2. Hit enter to expand a main menu option (Health, Benefits, etc). 3. To enter and activate the submenu links, hit the down arrow. You will now be able to tab or arrow up or down through the submenu options to access/activate the submenu links.

Rehabilitation and Prosthetic Services
History: Service Teams and Specialist
Visual Impairment Service Teams
The first VA follow-up study of World War II Veterans occurred in 1952-53 when social workers in 70 regional offices conducted structured interviews with 2,000 blinded veterans. The demographic and social data accumulated in the interviews were set forth in a book edited by Bledsoe, War-Blinded Veterans in a Post-War Setting, issued by the VA in 1958. Criteria used to evaluate adjustment and acceptance into society included: marital status, family structure, home ownership, employment, social activities, and attitudes to self and toward society. The findings amply supported the conclusion that rehabilitation training "paid dividends, both psychologically and economically."
Ten years later a follow-up study noted that half of the blinded Veterans studied had not had an eye examination within the past five years. In addition, a substantial number had a hearing loss and even more were neglecting a variety of other health problems. These findings helped jolt into existence an outreach program that Russ Williams, who left Hines in 1959 to replace Bledsoe in VA Central Office, had been urging the Veterans Administration to consider. It would be called the Visual Impairment Service Team (VIST) program.
In 1967, Visual Impairment Service Teams were established at 71 VA medical centers and the names of all Veterans receiving disability compensation or pension for any degree of visual impairment were sent to regional VA Outpatient Clinics. Instructions were given to each facility to make personal contact with each blinded Veteran in their jurisdiction and arrange for periodic reviews of their medical condition and needs. A social worker would serve as coordinator of the multidisciplinary team and enlist other appropriate personnel as needed. The VIS Team would be chaired by a physician.
It was a VIST program construct that no adjustment patterns under blindness are fixed or unchanging. The purpose of the program stated:
"It is the policy of the Department of Medicine and Surgery to promote the coordination of its medical and health-related services to bring about reorganization to life under blindness; and to coordinate VA and other resources to assist blinded Veterans in maintaining satisfactory adjustments through the changing circumstances of life and advancing years."
The annual VIST review would involve a holistic approach looking at the Veteran's physical, psychological and social health. The VIST Coordinator would have primary responsibility for conducting a psychosocial assessment to determine the veteran's general well-being and adjustment to blindness. The VIST Review would also include an assessment of any benefits and resources to which the veteran was entitled as well as a physical examination and eye exam. Quite often, these reviews resulted in additional services, including audiological testing and referral to a Blind Rehabilitation Center.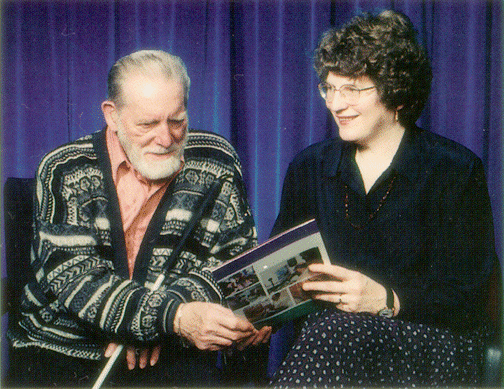 In 1978, the VA began reinforcing the VIST program by providing centralized funds to establish six full-time VIST Coordinator positions in order to meet the additional demands being created by an aging Veteran population experiencing age-related vision loss. Four social workers, who had been serving as part-time VIST Coordinators (Bob Fox - Seattle, Ellen Papadimoulis - Cleveland, Trudy Rothenberg - Miami, Michelle Schwartz - Manhattan), and two specialists from the field of blind rehabilitation (Randy Green - Houston, Mark Voorhies - San Francisco) were selected.
The positive aspects being achieved by employing full-time VIST Coordinators became increasingly evident as these professionals now had the time to educate VA staff, as well as the community at large, of the VA's visual impairment and blind rehabilitation programs. Subsequently, the VIST program became more visible with the net result being that greater numbers of Veterans with severe visual impairment were being identified and identified in an early stage of their blindness. This, in turn, strengthened the comprehensiveness of VA Blind Rehabilitation Service as it allowed the VIS Teams to provide early rehabilitation interventions for Veterans in their adjustment to the impact of sight loss. Ultimately, these positive outcomes would result in the creation of 86 additional full-time VIST Coordinator positions.
The VA now employs 92 full-time VIST Coordinators, who currently serve 33,000 visually impaired veterans as compared to the 5,500 blinded veterans that were identified by the 71 part-time VIS Teams in 1972. In addition, over 12,000 VIST reviews are now being conducted nationally on an annual basis.
Blind Rehabilitation Outpatient Specialist
The latest innovation in strengthening services in VA Blind Rehabilitation Service occurred in 1995 with the establishment of a blind rehabilitation outpatient training program. Fifteen Blind Rehabilitation Outpatient Specialists (BROS) positions were created at that time to be administered by multi-skilled and experienced blind rehabilitation specialists. These instructors would be expected to have a basic working knowledge in all of the blind rehabilitation skill areas plus advanced technical knowledge and competencies in at least two of the following disciplines: orientation and mobility; living skills; visual skills; and manual skills.
The BROS program has been designed to serve as a major enhancement in rehabilitation for blinded Veterans by extending the services provided by a Blind Rehabilitation Center to the blinded Veteran's home environment. In effect, it provides a community reintegration process through a continuum of cre model that involves pre-BRC and post-BRC assessment and training in the local setting. Moreover, the BROS are able to provide local blind rehabilitation training in order to meet the limited, specific needs of Veterans who are not candidates for the comprehensive BRC program.
BROS work closely with VIST Coordinators and the regional BRC in providing a continuum of care. More than 1,300 Veterans have received this type of training since the inception of the BROS program. Current BROS sites.
return to top